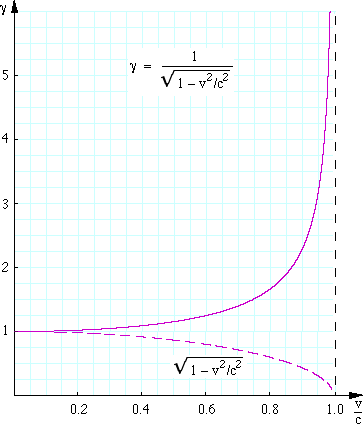 Combining the two equations above:
(cT)2 = (cT')2 + (vT)2, then dividing by c2 and rearranging gives

T'2 = T2 - (v/c)2T2 whence

T' = T(1 - (v/c)2)1/2 = T/γ, where γ = 1/(1 - (v/c)2)1/2.
So Jasper observes Zoe's clock to tick more slowly by a factor γ, which is always greater than or equal to one. This factor γ occurs regularly in special relativity, so we have plotted it at right. (The dashed line plots 1/γ.) We notice that, unless v is a substantial fraction of c, γ is approximately 1. This of course is why we don't notice time dilation at ordinary speeds. For an airplane travelling near the speed of sound, γ = 1.0000000000005.
Note that 1/γ(v/c) is the equation of a circle, although we have stretched the horizontal axis so that the dashed line looks like an elipse. So γ (the solid line) is conveniently remembered as the reciprocal of a circle.
In the animations, Zoe's car travels at 0.8c, so γ = 1.67, so Jasper measures Zoe's clock to have ticks that are 67% longer than the time that Zoe measures.

What about other clocks? The choice of this rather peculiar clock was made only because it is one that so clearly depends on a simple electromagnetic phenomena. Other clocks (quartz crystals, springs, even Zoe's biological clock) depend on complicated combinations of electromagnetic phenomena such as the forces between atoms and molecules, and on Newton's laws. If they didn't differ from Jasper's clocks by the same factor of γ, then we would conclude that the laws of mechanics and/or electromagnetism are different between the two frames, contrary to the principle of relativity. So yes, time dilation would affect biological clocks as well, and Jasper thinks that Zoe is getting older more slowly than he is.

Symmetry. But Zoe also thinks that Jasper is getting older more slowly than she is. (The situation between Jasper and Zoe is symmetrical: if you believe that a '62 Holden can travel at relativistic speeds, you might as well believe that the verandah can, too.) So Zoe observes that Jasper's clocks are running slow by γ, too.

Hold on, I hear you say, how can both clocks run slow? Surely that's impossible? Puzzling, but not impossible, because the clock rates are measured in different frames. Let's suppose that they synchronise clocks when they pass each other. What happens when they compare time later? Now remember that their relative speed is a substantial fraction of the speed of light. Consequently, when Zoe looks at Jasper's clock, the light will take a while to reach her eyes. So she will see the time that the clock read when the light that she is seeing reflected off Jasper's clock. (Think of astronomers looking at very distant galaxies: they emitted the light we see when they and the universe was much younger than it is now.) So distant observes can't just use the time that they see on the clock, they have to correct this for the time of transmission of light (or radio etc) that is used to send the local time.

This synchronisation effect is important enough to need another page on its own, because it is tempting to try to use this symmetry to create a paradox that would disprove relativity. See the twin paradox for an explanation.

We call the time measured by an observer in his/her own frame the proper time. ('Proper' here means 'belonging to' or 'property of', it doesn't mean 'correct'.) So the time measured by other observers (Jasper in this example) is γ times greater than the proper time (Zoe's time in this example). γ is always greater than or equal to one.