Magnetism
In the second film, two wires are initially hanging vertically and parallel (at left). A battery is suddenly connected so that current travels in the same direction in the two wires (at right). (In the film clip, it is later disconnected, and then the wires swing freely.)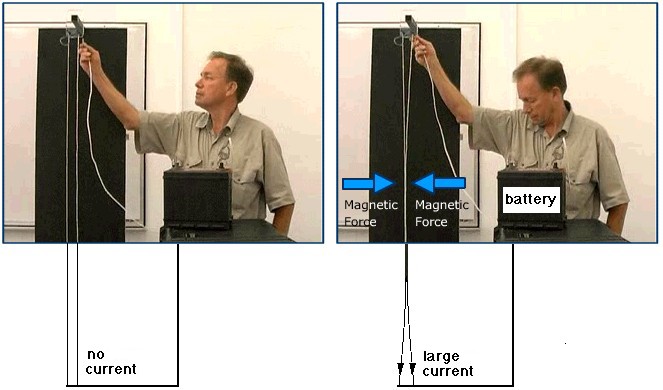 Two parallel wires carrying currents in the same direction attract each other
Here, the magnetic forces that the wires exert on each other push the wires together. Two electric currents travelling in the same direction experience an attractive force. Electric currents are carried by moving electric charge (electrons in the case of metal wire), so if electric charges of the same sort travel in the same direction parallel to each other, the magnetic force is attractive. In magnetism, like currents attract and opposite currents repel.
Safety warning. The currents involved in the second demonstration are quite large (they are produced by short circuiting a 12 volt car battery and probably exceed 100 Amperes). This demonstration is a bit dangerous: it produces sparks and, if the current flows for more than a few seconds, the wires and contacts become very hot. The battery could also get hot. Do not do it unless you know what you're doing.
Newton's third law of motion
Notice that in both the examples above, forces are produced in pairs, as promised when we discussed Newton's third law. Their directions are opposite in each case. A simple statement of Newton's third law is this: Forces come in pairs that are equal in magnitude and opposite in direction.