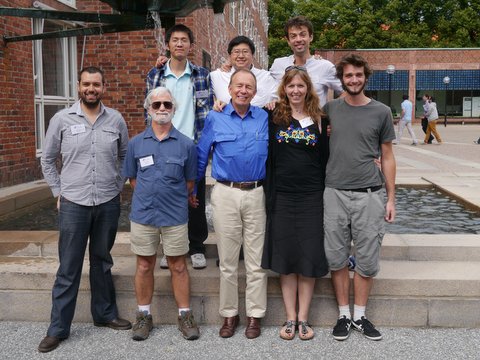 Team UNSW at the Stockholm Music Acoustics Converence, August 2013. Back: Weicong Li, Jer-Ming Chen, Henri Boutin; Front: Noel Hanna, John Smith, Joe Wolfe, Claudia Fritz (past student and visitor), Roman Auvray (past student).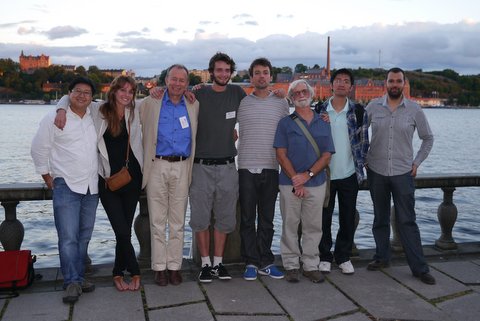 Team UNSW at the Stockholm Music City Hall, August 2013. Jer-Ming Chen, Indianna Wollman (past student), Joe Wolfe, Roman Auvray (past student), Henri Boutin, John Smith, Weicong Li, Noel Hanna.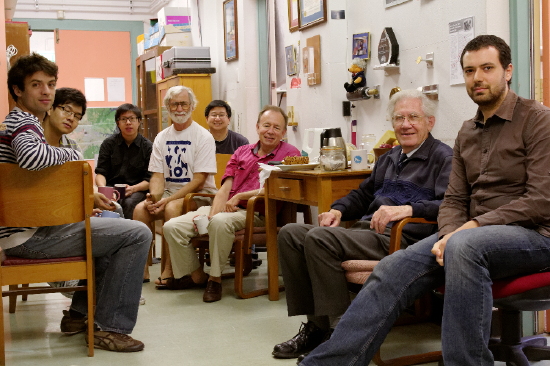 The crew in December 2011: Henri Boutin, Kaiwen Li, Derek Chu, John Smith, Jer Ming Chen, Joe Wolfe, Neville Fletcher (visiting for the day) and Noel Hanna. Absent: Laura Wade.

Andrew Botros, once creator of the Virtual Flute, shows off his new haircut to Professor Brendon Parker, Dean of Engineering.


Visiting from France in 2006, stagiaires Sebastien, Emeline and Florent bravely face the Sydney winter.


Sebastien Lemasle and Florent Gant studying harp acoustics, at Hugh Jones' factory.


Harry turns on his electric flute.


Torsten, Andrew, Harry and Trish off Sydney heads.


Camouflage pants, Mickey Mouse gloves, a monogrammed cup, and a weeping guitar. Just what is Ra up to?


In 2005 Guillaume Rey, Sami Karkar and Dominique Martini, stagiaires from Paris and visitors to the acoustics laboratory, take the time to sample Sydney Harbour and Inala.


Six stagiaires, all former visiting students to the acoustics lab, met with Joe Wolfe to celebrate Claudia Fritz' thesis defence in Paris December 2004.
Emmanuel Bossy, Claudia Fritz, Elodie Joliveau
Jean-Yves Tinevez, Joe Wolfe, Pierre-Yves Plaçais, Eric Bavu

Joe Wolfe and Don Burrows comparing clarinets at the top of the university mall.

Joe investigating vocal tract - reed - bore interactions.

Lawrence Dobell playing a fake clarinet with the same gusto as you might find from him in the Sydney Opera House.

What are Elodie Joliveau and Claudia Fritz laughing about? - perhaps it's Claudia's faux leopard shoes.

John McLennan plays his bowing machine

Eric Bavu is investigating the bowed string

Ra Inta and Paul Dickens. Ra works on the acoustics of the acoustic guitar and Paul is studying the classical flute.

Rob Fearn scores two out of three. The girl, the cheque and the silver medal for Young Inventor Award of the year 2002.

Alex Tarnopolsky works with the acoustics of the didjeridu.

Alex Weiss visiting student from Regensburg working on transverse motion of a bowed string.

Pierre-Yves Placais, Anthony Frith, Ben Lange, Matthieu Maziere all at sea.


Matthieu Maziere visitor from France modelled the virtual guitar


Pierre-Yves Plaçais studying a bowed string

Ben Lange studies the acoustics of the didjeridu and vocal tract

Manfred Yew working on torsion of bowed strings

Chen-Gia Tsai from China collaborating on the dizi

Ryan France visiting student from USA investigates woodwind acoustics

Romano Crivici, Harry Vitiliotis and Michael Lea with the Powerhouse Museum twin violins

and the violin workshop

Olivier Marnette and David Vernet, past students from France

Neville Fletcher demonstrating the shakuhachi

Andrew Botros (student 2001) creator of the Virtual Flute with Jane Cavanagh our resident flutist.Obi-Wan-Andrew in a galaxy far, far away.