Time, space, electricity and quantum mechanics
Our imaginary experiment shows that electrical and quantum effects are inter-related. Charge is carried by electrons and protons, which are subject to (quantum) mechanical laws. It is meaningless to talk of changes in an electromagnetic constant or a quantum mechanical one alone. Asking whether the speed of light changes over time superficially appears to be a reasonable question: it makes grammatical sense. But it doesn't make scientific sense. In science, a proposition must be, in principle, testable. (For instance, if you propose that there is an invisible gorilla in the room, and that she has no mass and no effects that can be detected, then your proposition is not a scientific one.)
The fine structure constant, α
So is there something that physicists can measure for which a change over time would have meaning? Yes, there is. Any quantity that doesn't have units can be measured as a ratio. For example, the fine structure constant α is a measure of the relationship between electromagnetic effects and quantum effects and it has no units.

Because it has no units, we can think of it as a ratio. Here is a simple explanation: In the Bohr-de Broglie-Sommerfeld model of the hydrogen atom, an electron 'orbits'* a proton, 'travelling' in a circle at 'speed' vH. In this picture, the fine structure constant

and takes a value close to 1/137. (There are few pure numbers in physics, and so the number 137 is especially memorable for physicists.) Let's look at more basic expressions for α later. For now, let's ask:
Has the fine structure constant changed over time?
The obvious answer is "not much, or we should have noticed it". The temperature of stars (including the sun) is a strong function of α, so even a modest change would have been very observable. For instance, life has been on Earth for at least a quarter of the age of the universe, and perhaps as much as a third. This puts a limit on how much the sun's temperature could have varied over that time. (Another, much stricter limit is imposed by measurements of the reaction products of a natural atomic reactor at Okla (Oklo) in Gabon that was active about two billion years ago.) So any change over this time scale must be small. But is the change exactly zero over all time?

Several years ago, my colleagues at UNSW, cosmologist John Webb and theoretical physicists Victor Flambaum and Vladimir Dzuba developed a new way of determining α from the spectra of quasar light that had passed through gas clouds on its way to earth. Quasars are very bright, so one can measure the atomic absorption spectra of very distant gas clouds. (Image courtesy John Webb.)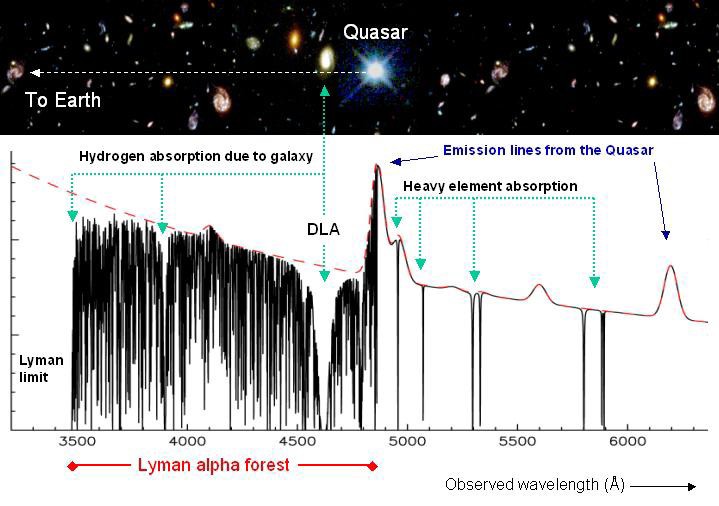 Because c is finite, "distant" means "long ago". So John and Victor thought that their new, very sensitive test would be a way of putting a new, very tight limit on the possible change in α over times comparable with the age of the universe. An interesting problem for a good graduate student, and so Michael Murphy joined them in the search. (Michael wrote an excellent doctoral thesis and is currently a postdoc in Cambridge.)

Michelson and Morley expected a small, finite result and found zero. Murphy, Flambaum and Webb expected zero and found a very small, but statistically significant effect. These researchers hasten to add that the effect is small, is observed only in the very young universe (and is therefore not in disagreement with other determinations of α in more recent times). They also stress that the results are so unexpected that they really call for a replication by other, independent researchers using independent data from the same era. Nevertheless, their work is a tantalising hint that the laws of Nature might change on cosmological time scales or distances. It is interesting to speculate, for instance, that they might have changed somewhat in the very early universe, when some seriously weird things seem to have happened, but have stabilised early on. But that is speculation.
What would α(t) tell us about c?
Well, let's write a few different expressions for α and see. In these expressions, e is the magnitude of the charge on the electron, kelec is Coulomb's constant for electricity, ε0 and μ0 are the electric permittivity and the magnetic permeability of the vacuum. For the moment, let's consider only units in the SI. Notice that, by choosing one's expression, c can appear in the numerator, the denominator or nowhere. In fact, with the natural system of units we chose to give simplest expression of Maxwell's equations, ε0 = μ0 = 1. And in this elegant system of units - one that is widely used by physicists, especially theoreticians, c = 1. So a good test of a statement that c varies is to ask the proposer to explain how the proposition could be tested, and for the explanation to use natural units for all quantities.
There are a few ways of making sets of units for physical measurements that are considerably more logical than those that we use today. However, don't expect them to be introduced into everyday life, because the unit of speed, c, is impractically large. ("Well, driver, I clocked you at 120 nanocees, about 1046 Plancks ago.")
Notice that, in the natural system of units, once you have determined electric and magnetic effects, the speed of light in vacuum is exactly one (unit of speed). What is the value Plank's constant, h, in a natural system of units? If we chose the unit of the electric charge to be that on the proton, then it would have the value 68.5. More common in the use of natural units, however, is to set Planck's constant as the unit of action, and then α determines the unit of charge.
Let's return to our questions above that concern the relations among atom sizes, vibration frequencies and electromagnetism. In the (most common) natural system of units, we cannot ask whether Planck's constant varied, because it is one. After a little reflection, all versions of these questions (providing they don't involve gravity) convert to asking whether α varied.
α is a ratio that has a meaning in all systems of units, including natural ones. So it is a meaningful question to ask whether α changes. The answer is not definitively known yet, but there is a suggestion that, in the very early universe, it may have changed a little.
If α has changed, what would this mean for relativity? As far as I can see, it has no immediate consequences - it doesn't pose any obvious threat to Special Relativity. Like Galileo's relativity, Special Relativity is a theory of relative motion. However, you can imagine the temptation for a sub-editor on the science page to write a headline such as "speed of light not constant" or "Einstein wrong" so, no matter how careful the scientists have been, you may find some peculiar statements in the non-specialist publications.
References
A popular account of the possible variation in α is given in Another popular account is "Inconstant Constants", by John K Webb and John D Barrow in Scientific American, June 2005. For quite serious technical accounts, about the results and the method, see
Murphy, M. T.; Webb, J. K.; Flambaum, V. V.; Curran, S. J. (2002) "Does the fine structure constant vary? A detailed investigation into systematic effects" arXiv:astro-ph/0210532, or
Webb, J. K.; Murphy, M. T.; Flambaum, V. V.; Dzuba, V. A.; Barrow, J. D.; Churchill, C. W.; Prochaska, J. X.; Wolfe, A. M., Phys. Rev. Lett., 2001, 87, 1301
---